Shark Tale (UK)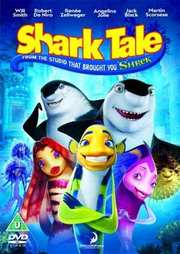 In fall, a new school will rule
Certificate: U
Running Time: 90 mins
Retail Price: £22.99
Release Date:
Content Type: Movie
Synopsis:
Oscar (voiced by Will Smith), a lowly tongue-scrubber at the local Whale Wash, becomes an improbable hero when he tells a great white lie. To keep his secret, Oscar teams up with an outcast vegetarian shark, Lenny (Jack Black), and the two become the most unlikely of friends. When his lie begins to unravel, it`s up to Oscar`s loyal friend Angie (Renée Zellweger) and Lenny to help him stand up to the most feared shark in the water and find his true place in the reef.
Special Features:
CLUB OSCAR: This must-sea exclusive-to-the-DVD segment brings viewers behind the seaweed ropes of the hottest club under the sea..."Club Oscar." Created by the DreamWorks animation team and featuring the star-studded Shark Tale voice talent "gettin` fishy with it," this hilarious animated sequence stars all of the Shark Tale characters showcasing their best dance moves.

CLUB OSCAR: GET YOUR GROOVE ON:Once the dancing is done, home viewers are invited to shake their tail fins along with their favourite characters under the sea with a special learn to dance sequence by the film`s famed choreographer Nadine "Hi-Hat" Colquhon.

GIGI THE WHALE: A fully animated, tongue-in-cheek clip featuring audition footage of Gigi The Whale (voiced by Vincent Pastore) reading for a role in Shark Tale.

DIRECTOR`S COMMENTARY: How do you "fishify" Will Smith? What does it take to create Time Square at the bottom of the ocean? Get the answer to these and other questions swirling around the sea in a delightful director`s commentary by Vicky Jenson, Bibo Bergeron and Rob Letterman that provides insider information on the making of this fun-filled animation hit.

ROUGH WATERS: A hilarious look at what happened when the animation process did not go according to plan during the movie`s production.

Video Tracks:
Widescreen Anamorphic 1.85:1

Audio Tracks:
Dolby Digital 5.1 English

Subtitle Tracks:
English

Starring:
Martin Scorsese
Angelina Jolie
Jack Black
Renée Zellweger
Robert De Niro
Will Smith