The Rolling Stones : Totally Stripped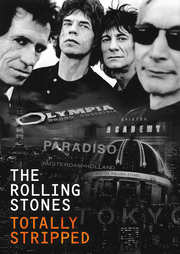 The 1995 concerts
Certificate:
Running Time: 90 minutes
Retail Price:
Release Date: 03/06/2016
Content Type: Musical Recording
Synopsis:
One of the most anticipated releases in recent years, this collection features The Rolling Stones going back to the source of many of their favorite tracks, creating new stripped back versions. Selected material from studio sessions and shows presented here formed the Stripped album of 1995.

Following the 'Voodoo Lounge' tour, The Stones released Stripped, an album of reconsidered, pared back renderings of some classic Stones tracks, and also a couple of carefully chosen covers. The album mixed new studio versions of tracks with some live songs. The tracks that made up Stripped were taken from two studio sessions that took place in Tokyo [March 3-5, 1995] and in Lisbon [July 23-26], and a trio of live shows in July 1995 at small concert venues in London, Paris and Amsterdam. Keith Richards commented, "There's something about playing these small venues, the immediacy of it. Also we can keep God out the band, because on big gigs he sometimes turns up as rain or wind".

As Mick Jagger said at the time, the aim was to "Take the best element from [MTV] 'Unplugged', the intimate thing of it, without actually doing it completely unplugged". This collection is built on the power of lyric and melody, and the material here feels somehow simpler yet potent, as the songs stand on their individual timeless quality rather than on the production techniques and technical expertise that generally come as part and parcel of being the biggest band in the world.
Special Features:


Video Tracks:
Standard 1.33:1

Audio Tracks:
Dolby Digital 5.1 English
dts surround sound
Dolby Digital 2.0 Stereo

Music From:
The Rolling Stones