Fron Male Voice Choir 'Voices of The Valley Live'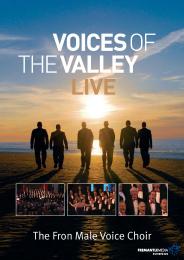 2008 Live concert from St. Jude's, Hampstead Garden Suburb
Certificate:
Running Time: 111 minutes
Retail Price: £15.99
Release Date: 3/11/2008
Content Type: Musical Recording
Synopsis:
The Perfect Christmas Gift: Out Now

Fremantle Home Entertainment is proud to announce the release of the first ever DVD from the phenomenally successful, multi-platinum selling Fron Male Voice Choir. Released on 3 November 2008 and entitled 'Voices Of The Valley Live', the DVD coincides with the release of their third studio album 'Home' for Universal Classics and Jazz.

Filmed during Proms at St Jude's 2008 Music Festival in the stunning St Jude's Church, Hampstead Garden Suburb, London, the Fron Male Voice Choir DVD draws on the almost perfect acoustics of the early 20th century Lutyens designed venue creating a rousing performance of beauty and clarity that can only be achieved with 60 Welsh male voices in full throng.

DVD CONTENT
The concert DVD features 23 songs given the classic Fron treatment, including renditions of much loved songs such as 'You Raise Me Up', 'Unchained Melody', 'You'll Never Walk Alone' and 'Can't Help Falling In Love' as well as other songs featured on their albums 'Voices Of The Valley' and 'Voices Of the Valley Encore'. Also performed on the DVD are traditional Welsh songs that throughout the choir's 60 years have become part of the live Fron Male Voice Choir experience.

Additionally, the DVD also has the mezzo soprano voice of Ann Atkinson, the Fron's musical director and the only female among the 60 male voices, a lone figure in a man's world. Ann performs on songs that include 'World In Union' and 'Panis Angelicus' as well as three more solos exclusively as DVD extras.

An exciting highlight of the DVD is an intimate documentary following the guys on the road and interviewing them in the stunning Froncysyllte valley. The most charming essence of the Fron Male Voice Choir is the way they balance their real lives, which includes work as a prison warder, fireman, farmer, undertaker and builder, to name just a few, to infiltrating the pop music world as part of this strictly amateur choir.

CHART SUCCESS
One of the most momentous and astonishing rises ever, The Fron Male Voice Choir's debut album for UCJ rocketed the 60 strong male voices of Froncysyllte, North Wales and their sole female and musical director Ann Atkinson to top of the classical charts. Selling a monumental figure of almost one million copies and still rising, 'Voices Of The Valley' spent two months atop the classical chart and became the fastest-selling classical album ever.

HISTORY
Formed in 1947 in the aftermath of World War II, it took the Fron Male Voice Choir an incredible 58 years to hit the big-time. Spotted at a wedding in 2006 by Daniel Glatman, the former manger of boyband Blue, he immediately signed them to UCJ putting them on the road to stardom and earning them the reputation as the oldest boyband in the world.
Special Features:
DVD Tracklisting:

1) Gospel Train
2) Dyrchefi'r Fi (You Raise Me Up)
3) Unchained Melody
4) Gwahoddiad (Invitation)
5) My Little Welsh Home
6) The Miller's Song
7) Panis Angelicus
8) Tydi a Raddaist (Thou Gavest)
9) Yesterday
10) Suo Gân (Lullaby)
11) Softly As I Leave You
12) When The Saints Go Marchin' In
13) Battle Hymn of the Republic
14) Can't Help Falling In Love
15) Ar Lan y Môr (On the Sea Shore)
16) You'll Never Walk Alone
17) How Great Thou Art
18) World In Union
19) Bring Him Home
20) The Rose
21) Rhythm Of Life
22) Amen
23) Land Of My Fathers (Welsh National Anthem)


Extras:

Documentary - Over 20 minutes

Ann's extra solos:
1) Habanera - from Bizet's 'Carmen'
2) Dido's Lament - from Purcell's 'Dido and Aenas'
3) David Of The White Rock

Related Websites:
http://www.fronchoir.com
http://www.fronchoir.com/DVDLink.htm