Miracles: The Canton Godfather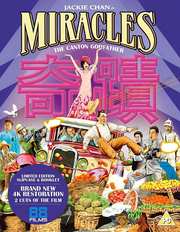 a.k.a. Mr Canton and Lady Rose
Certificate: PG
Running Time: 128 mins
Retail Price: £24.99
Release Date: 2019
Content Type: Movie
Synopsis:
An optimistic Gwok Zan-Waa (Jackie Chan) arrives in Hong Kong, quickly finding himself impoverished. That is, until a serendipitous encounter with a rose seller (Gua Ah-Leh) leads to his inadvertent appointment as boss of a local gang.

Amidst the reluctant leader's efforts to reform their fraternity and businesses, is an endeavour to share his new-found fortune with the bestower, all whilst trying to stave off rivals and the authorities.

A remake of Frank Capra's 'Pocketful of Miracles', Miracles - also known by its Hong Kong English title 'Mr Canton and Lady Rose' - is an action-comedy-romance set against a backdrop of lavish elegance and style.
Special Features:
Alternate Cantonese Mono Soundtrack featuring a unique mix and different music cues
'Teaser' with clips from the main features of 'Project A II', 'Police Story 2', followed by behind-the-scenes of 'Miracles'
Alternate The Canton Godfather title sequence
[New] Jackie Chan: Film Director Featurette with Steve Lawson
Hong Kong Trailer

Miracles On Set: William Blaik takes a look back at the JC Stunt Team's Future Stars and Hidden Gems [Booklet notes]
The Old Way of the Dragon: Inspiration, Techniques and making Miracles by Scott Harrison [Booklet notes] featuring rare stills, posters, lobby cards, behind the scenes photos, production stills and more

Double-sided artwork with both original Hong Kong poster art and International poster art

Video Tracks:
2.35:1 widescreen 1080p

Audio Tracks:
DTS-HD MA 2.0 Mono Cantonese
DTS-HD MA 2.0 Mono Alternative Cantonese
DTS-HD MA 2.0 Mono English

Subtitle Tracks:
English

Directed By:
Jackie Chan

Written By:
Edward Tang

Starring:
Jackie Chan
Anita Mui
Ah-Lei Gua
Chun-Hsiung Ko
Wu Ma
Bill Tung

Director of Photography:
Arthur Wong

Editor:
Peter Cheung

Costume Designer:
Lai-Fang Chan
Sun-Yiu Cheung

Production Designer:
Eddie Ma

Distributor:
88 Films