Sunrise: The Masters of Cinema Series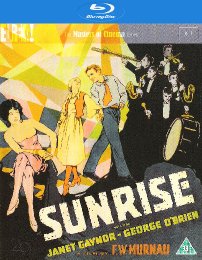 A Song of Two Humans
Certificate: U
Running Time: 94 Mins
Retail Price: £24.99
Release Date: 21/09/2009
Content Type: Movie
Synopsis:
This new edition of Sunrise (for the first time anywhere in the world on Blu-ray) contains two versions of the film (both in 1080p HD): the previously released Movietone version, and an alternate silent version of the film, recently discovered in the Czech Republic, of a higher visual quality than any other known source.

The culmination of one of the greatest careers in film history, F. W. Murnau's Sunrise blends a story of fable-like simplicity with unparalled visual imagination and technical ingenuity. Invited to Hollywood by William Fox and given total artistic freedom on any project he wished, Murnau's tale of the idyllic marriage of a peasant couple (George O'Brien and Janet Gaynor) threatened by a vamp-like seductress from the city (Margaret Livingston) created a milestone of film expressionism.

Made in the twilight of the silent era, Sunrise became both a swan song for a vanishing medium and one of the few films to instantly achieve legendary status. Winner of three Oscars® for Best Actress (Gaynor), Cinematography, and a never-repeated award for "Unique and Artistic Picture", its influence and stature has only grown with each passing year. The Masters of Cinema Series is proud to present the world première of Sunrise on Blu-ray.
Special Features:
• Audio commentary
• Alternate Olympic Chamber Orchestra score
• Outtakes
• Murnau's 4 Devils: Traces of a Lost Film
• Original theatrical trailer
• 20-page illustrated booklet

Related Websites:
www.eurekavideo.co.uk/moc

Video Tracks:
1080p 1.20:1 - Movietone
1080p 1.37:1 - Czech Version

Audio Tracks:
Dolby TrueHD 2.0

Subtitle Tracks:
English

Directed By:
F. W. Murnau

Written By:
Hermann Sudermann
Carl Mayer

Starring:
George O'Brien
Janet Gaynor
Margaret Livingston
Bodil Rosing
J. Farrell McDonald
Ralph Sipperly
Jane Winton
Arthur Housman
Eddie Boland

Director of Photography:
Charles Rosher
Karl Struss

Editor:
Harold D. Schuster

Visual Effects:
Frank Williams

Producer:
William Fox

Distributor:
Eureka Video
The Masters of Cinema Series