Kevin Smith's first stand-up release for 5 years Too Fat for 40 hits DVD in January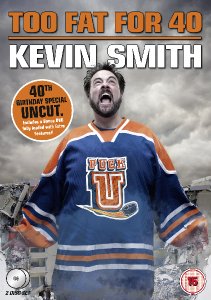 KEVIN SMITH'S 40TH BIRTHDAY SPECIAL Q&A PERFORMANCE AND HIS FIRST NEW STAND-UP DVD RELEASE IN FIVE YEARS.
Following the huge success of fan favourites "An Evening With Kevin Smith" and "An Evening With Kevin Smith 2: Evening Harder", the acclaimed filmmaker, writer, actor and raconteur responsible for such diverse movies as "Red State", "Cop Out", "Zack And Miri Make A Porno" and "Clerks II" releases his first new stand-up DVD in five years in the form of
Too Fat For 40
. Filmed on the evening of
Kevin Smith
's 40th birthday before a crowd of rabid fans at the Count Basie Theatre in his home town on Red Bank, New Jersey, this comedy special comes to
DVD
on
23rd January 2012
(coinciding with the release of "Red State" on DVD and Blu-ray) as a
two-disc edition
featuring the
full, uncut and unexpurgated three-and-a-half-hour version
of Smith's performance and including a
Bonus DVD
loaded with extra features including additional encore Q&A footage and a look behind the scenes.
Taking its title from the much-publicized brouhaha (which is hilariously discussed at length during the show) in which Southwest Airlines declared Smith "too fat to fly", Too Fat For 40 puts the spotlight firmly on Kevin Smith's brilliantly self-deprecating humour as he pokes fun at his everyday life through anecdotes and yarns all prompted by a one-question audience Q&A.
Absolutely nothing is off limits as Smith discusses very personal and very funny aspects of his private and public life including sex, the problems of being overweight, working with his hero, the late George Carlin, getting stoned with Seth Rogen, being arrested by the Canadian border guards for smuggling, being suspected by the LAPD of child kidnapping and the difficulties of working with a Hollywood superstar of Bruce Willis' stature - a situation exacerbated by the fact that the Hollywood superstar in question suspects you don't really know what you are doing. And, naturally, this being Kevin Smith, fellow actor-director and good friend Ben Affleck frequently finds himself in the firing line of Smith's comedy pot shots.
Part concert, part Q&A and totally funny,
Too Fat For 40
is essential viewing for Kevin Smith fans and anybody with a love of filmmaking and stand-up comedy.
Two Fat For 40
(cert. 15) will be released on
DVD
(£19.99) by
Mediumrare Entertainment
on
23rd January 2012
.