Action thriller Arena with Kellan Lutz and Samuel L. Jackson hits Blu-ray and DVD in January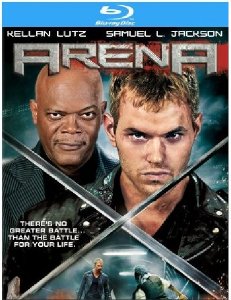 Twilight's
Kellan Lutz and Oscar
®
Nominee Samuel L. Jackson
Face Off In The Savage And Brutal World Of
ARENA
The Death Games Begin January 2 on Blu-ray™ and DVD
London, UK. 12/10/2011
-
Rising star Kellan Lutz (
Twilight
series,
Nightmare on Elm Street
) and Oscar
®
nominee Samuel L. Jackson (Best Actor in a Supporting Role,
Pulp Fiction,
1994) face off in the action-packed, visually stunning thrill ride
ARENA
, available on Blu-ray™ and DVD this January 2 courtesy of Sony Pictures Home Entertainment.
This hard-hitting film stars Lutz as a man kidnapped from his ordinary life and thrust into the savage world of a modern day gladiatorial arena where men fight to the death for the entertainment of the online masses. Jackson is "at his sinister best" (Tim Jansen, Media Entertainment) as the sadistic businessman behind the underground operation.
ARENA
co-stars Nina Dobrev (
The Roommate
, "The Vampire Diaries") and Daniel Dae Kim ("Lost," "Hawaii Five-0"). Action fans won't want to miss the life-or-death excitement when
ARENA
debuts on Blu-ray™ for RRP £17.99 and DVD for RRP £12.99.
Synopsis
How do you make a fortune from the bloodlust of millions? One sadistically savvy businessman (Samuel L. Jackson) has created an empire with his brutal, fight-to-the-death gladiator website. His newest warrior is David Lord (Kellan Lutz), a kidnapped fireman, now imprisoned and forced to fight for his life. To buy his freedom, Lord agrees to do a series of lethal bouts. But as the body count escalates, and with his most challenging battle remaining, Lord unleashes a torrent of bloody carnage and reveals a secret that threatens to tear down the entire enterprise. Also featuring Daniel Dae Kim (TV's "Lost") and Nina Dobrev (TV's "Vampire Diaries").
ARENA
marks the directorial debut of visual effects supervisor Jonah Loop (
Collateral
,
Transporter 2
). It was written by Tony Giglio (
Chaos
,
Death Race 2 & 3
) based on a screenplay by Michael Hultquist & Robert Martinez (
Victim
) and produced by Mark Williams (
Flawless
,
Malice in Wonderland
), Brad Krevoy (
Dumb and Dumber
,
Kingpin
) and Mike Callaghan (
Hardwired
,
Ticking Clock
).
ARENA
has a run time of approximately 94mins (BD), 90mins (DVD) and has been rated 18
Pricing and bonus features on Digital editions of ARENA may vary by service provider.
PRODUCT INFORMATION
TITLE
ARENA
Release Date
January 2 2012
Format
Blu-ray & DVD
RRP
DVD: £12.99
,
Blu-ray: £17.99
Certificate
18
Genre
Action
Running Time
DVD: 90mins
,
Blu-ray: 94mins
"Academy Award" and "Oscar" are registered trademarks of the Academy of Motion Pictures Arts and Sciences.
ABOUT SONY PICTURES HOME ENTERTAINMENT
Sony Pictures Home Entertainment is a Sony Pictures Entertainment (SPE) company. SPE is a subsidiary of Sony Corporation of America, a subsidiary of Tokyo-based Sony Corporation. SPE's global operations encompass motion picture production and distribution; television production and distribution; digital content creation and distribution; worldwide channel investments; home entertainment acquisition and distribution, operation of studio facilities; development of new entertainment products, services and technologies; and distribution of filmed entertainment in more than 142 countries. Sony Pictures Entertainment can be found on the World Wide Web at
http://www.sonypictures.com
.